02.08.2006 »
We've finally decided to put up a MySpace page, you can check it out by going to www.myspace.com/enterchaospoland
27.05.2006 »
UWAGA: POSZUKUJEMY PERKUSISTY!!! Wymagania: odpowiednia technika gry, sprzet oraz miejsce zamieszkania w okolicach Elblaga ( choc ten warunek nie jest konieczny ). Zainteresowani proszeni sa o kontakt na mejle: verymetal@wp.pl oraz (najlepiej slac mejle na oba adresy).

NEWS PL: W dalszym ciagu zyjemy i w przyszlosci mamy zamiar skopac jeszcze kilka tylkow. W ostatnim roku przesladowaly nas niesprzyjajace okolicznosci. Najpierw historia z Metal Mind, po ktorej odechcialo nam sie grac na jakis czas, pozniej przetasowania personalne. Po niemal roku czasu jestesmy w punkcie wyjscia, czyli szukamy perkusisty, a w dalszej kolejnosci wytworni.

NEWS ENG: We are not dead yet. Last year we were unlucky. After the split up with Metal Mind we took a little break, because we had a lack of motivation and problems with the line-up. Right now we want find a new drummer, because we can't play gigs or look for a new label without a full line-up. That's all folks!
10.05.2006 »
If anyone is interested in it, there is an EC bootleg recorded almost 2 years ago in Elblag with mostly songs from "Aura Sense" and without a bassist. EC bootleg zip [27Mb]
Enjoy!
02.04.2005 »
ENGLISH NEWS: We have decided to leave our label - Metal Mind. Why? Because they didn't pay for our studio and they don't answer e-mails or phone calls for last few months. It's a stupid situation because we have all the music, material and cover art for a new album and are waiting... Metal Mind is acting childish. We are slowly dying on this label, that's why we decided to make a radical cut. Aside from this our latest album "Aura Sense" had awful promotion or more likely we say it didn't have any promotion. Right now we are thinking about recording a few new songs in Studio X and looking for a new label.

The good news is we hired new bassist, Michal who played before in a progressive band called Lapidarium and death metal band called Carnivorous. Seems like his first performance will take place in Gdansk, on April 20th where we will play with Demise.

Related news: Demise's new album "Torture Garden" will be out on the 25th of April attached to the 2/2005 issue of Thrash'em All Magazine (Empire Records). You can find more info about Demise here: www.demise.pl
PL NEWS : Po kilku miesiacach powolnego dogorywania zdecydowalismy sie na radykalne posuniecie i opuszczenie szeregow Metal Mind. Powody sa trzy. Po pierwsze Metal Mind nie wplacil zaliczki na studio, przez co nie moglismy w lutym rozpoczac nagrywania naszej trzeciej plyty. Po drugie od kilku miesiecy trwa zabawa w chowanego i wszelkie proby skontaktowania sie z firma z Katowic przez telefon lub e-mail spelzaja na niczym. Po prostu nigdy nie ma osoby kompetentnej, ktora potrafilaby/chciala z nami porozmawiac. Zespoly majace wczesniej do czynienia z Metal Mind wiedza o co chodzi. Wreszcie trzecim powodem jest brak jakiejkolwiek promocji naszej poprzedniej plyty "Aura Sense". Przykro jest patrzec jak nasz wysilek i czas wlozony w powstanie "Aura Sense" jest marnowany przez ludzi, ktorzy sprawiaja wrazenie jakby pochodzili z innej planety. W tej chwili planujemy nagranie kilku nowych kawalkow w Studio X i poszukiwanie nowej wytworni.

Z dobrych wiesci - mamy nowego basiste. Zostal nim Michal, ktory wczesniej szarpal 4 struny w death metalowej kapeli Carnivorous oraz grajacym muzyke progresywna Lapidarium. Jego pierwszym powaznym testem bedzie koncert w Gdansku 20 kwietnia, gdzie EC zagra wraz z Demise.

Skoro juz mowa o Demise, to nowy album zatytulowany "Torture Garden" zostanie wydany 25 kwietnia wraz z numerem 2/2005 Thrash'em All Magazine (Empire Records). Wkrotce ruszy tez nowa strona Demise pod adresem www.demise.pl
25.02.2005 »
ENGLISH NEWS: "Houston, we have a problem" - this quote perfectly fits to our situation. Well, you're probably expecting news that the recording of the album went great, etc etc but actually nothing is recorded yet. Why? Ask Metal Mind, because we have no answer. We can't even tell you about the future of Enter Chaos, because future is unclear... but we will keep you informed.
PL NEWS : Zastanawiacie sie jak idzie nam nagrywanie "Chaosville"? Nijak, bowiem nie weszlismy do studia i nie wiemy kiedy wejdziemy. Na pewno nie predko. Dlaczego? Z tym pytaniem nalezy zwrocic sie do Metal Mind, poniewaz my sami nie znamy na nie odpowiedzi. W tej chwili ciezko powiedziec jaki bedzie nasz nastepnych krok, poniewaz pomiedzy nami a MMP doszlo do sporej roznicy zdan i nie zapowiada sie, by zdania te zblizyly sie w najblizszym czasie. Bedziemy informowac Was o sytuacji na biezaco.
01.02.2005 »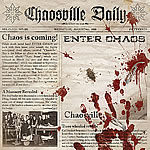 ENGLISH NEWS: Well, it's time to reveal the cover artwork for the new album "Chaosville". Yes, this cover looks weird and sick, but it is like Enter Chaos. You can expect anyything ;) Also, this time cover artwork and booklet are a concept. Wait for album before you start whining to us ;) Wanna know some songtitles? Ok, some working titles: Re-start, Laboratory Of Hate, Entrance To The World, God Masterplan, Misunderstanding Of Souls, Flat Calm, Department Of Correction.
PL NEWS : Ufff... pare nowinek o naszej nowej plycie. Po pierwsze zobaczyc mozecie jak wyglada okladka plyty stworzona przez Andrzeja Zdrojewskiego, znanego rowniez tu i owdzie jako D. Przy okazji "Chaosville" okladka i ksiazeczka sa scisle ze soba powiazane, o czym przekonacie sie, gdy plyta trafi do sklepow. Po drugie, jesli ktos jest ciekaw, podajemy kilka roboczych tytulow utworow: Re-start, Laboratory Of Hate, Entrance To The World, God Masterplan, Misunderstanding Of Souls, Flat Calm, Department Of Correction.
03.01.2005 »
More great news! Aura Sense was chosen by the listeners of Totalrock's Sex to 9 with Maria as their #2 album of 2004. Many thanks to all of those who voted for EC!